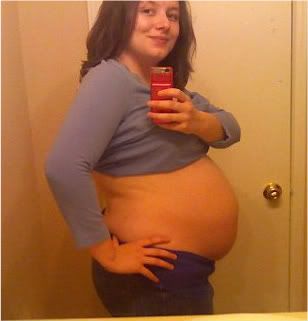 How far along? 33 Weeks 1 Day
Total weight gain/loss Not as much as I'd originally thought. At my doctor appointment last week, I hadn't gained any from the previous appointment. My total weight gain is at 25 pounds, not 28 like I thought.
Maternity clothes? Affirmative.
Stretch marks? A few new ones popping up along the sides of my belly.
Sleep Still disrupted by frequent side-switches and bathroom breaks.
Best moment this week Unpacking her clothes and tossing them in her hamper in preparation to wash them!
Movement She's been moving a lot more consistently the past few days.
Food cravings MOZZERELLA STICKS.
Gender Girl!
Labor Signs Got my cervix checked at last appointment; it's tightly closed. No contractions. I actually haven't even had any Braxton Hicks.
Belly Button in or out? Still an innie – but it's getting flatter.
What I miss Not having lower back pain.
What I am looking forward to Our 3d ultrasound on Saturday and baby shower #2 on SUNDAY!
Weekly Wisdom Can't think of anything right now.
Milestones 8 months pregnant!
Note from Mama:
If you enjoyed this post, please remember to vote for me at PregnancyCorner.com. You can do so by clicking on this button:
And following their instructions. I have some pretty stiff competition. It only takes a few minutes, and you could help an up and coming mommy blogger take off and get some recognition. Thank you!